Available meals items on trek
Available meals items on trek
There will be a variety of home-cooked meal options available during the trek, including traditional dishes from the region you are trekking in. These meals are carefully prepared by experienced cooks using fresh and locally sourced ingredients to ensure both taste and nutrition.
The following items are regularly found on the trek menu at each mountain tourist guest house: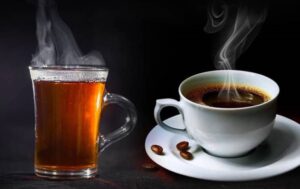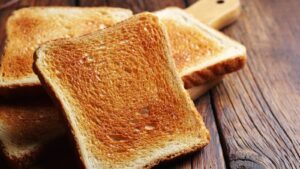 For breakfast
Tea, hot drinks and coffee items; Black tea, Milk Tea, Lemon tea, Hot Lemon, Ginger Tea, Masala Tea, Black Coffee, Milk Coffee and Hot Chocolate
Porridge, flacks and Muesli items; Muesli milk with fruit, Muesli with milk, corn flacks with milk, Porridge with Milk, Plain Porridge, porridge with fruits / apple/ banana
Egg and omelet items; Boiled Egg, Fried Egg, Scrambled Egg, Poached Egg, Omelet plain, Veg Omelet, Cheese Omelet, tomato omelet, Mixed omelet
Bread and pancake items; plain pancake or with Jam/honey/Butter, Apple Pancake, lemon sugar pancake, plain Chapati or with jam/honey/butter, Toast Plain or with jam/honey/butter, Tibetan bread Plain or with Jam/ butter/Honey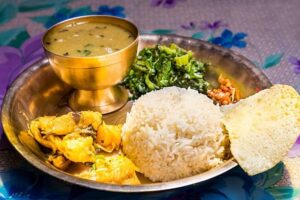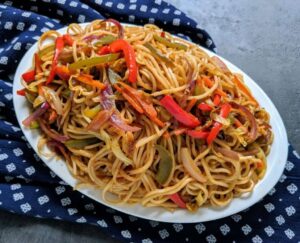 For lunch and dinner 
Hot and Soup items; Tomato Soup, Vegetable Soup, Mushroom Soup, Chicken Soup, Mushroom Soup, Onion Soup, Garlic Soup, Potato Soup, pumpkin soup, Mix Soup (Veg, Chicken, Mushroom, Cheese), Noodle Soup, Egg-Veg-Noodle Soup
Potato items; Boiled potato, fried Potato, Fried potato with Veg., Fried Potato with egg Top, Fried Potato with cheese, veg & Egg, Potato Chips, French fry, Massed Potato, Potato bread, French fry
Fried noodle items; Fried Noodle, fried Noodle with veg, fried noodle with egg, fried noodle with cheese, mix Fried Noodle (Veg, Cheese, Chicken, Egg)
Pizza and pasta; Tomato cheese pizza, Cheese Veg Tomato Pizza, Mushroom Pizza, Tuna Pizza, Mix Pizza, Spaghetti cheese, macaroni with tuna /cheese
Noodle with soup items; Veg Thukpa soup, Veg Egg Thukpa soup, chicken Thukpa soup, Nepali Rara noddle soup with veg / egg,
Mo. Mo and dumpling items; Veg mo:mo, chicken mo:mo, Mix Mo:Mo ( Veg, Cheese, Egg), Tuna mo . mo, cheese mo .mo, veg spring roll, veg egg spring roll
Nepali Traditional Special items; Daalbhat (boiled rice serve with, dhal lentil soup, vegetable, pickle, Papad , Salad)
Boiled cooked rice with other items; Veg curry with rice, chicken Curry with rice, egg curry with rice, veg fried rice, chicken fried rice, veg/ egg fried rice, Mix fried Rice, egg fried rice
Meat items; chicken sizzler, Chicken Curry, Chicken Steak, Yak Steak.